Digital Twins in Automotive Manufacturing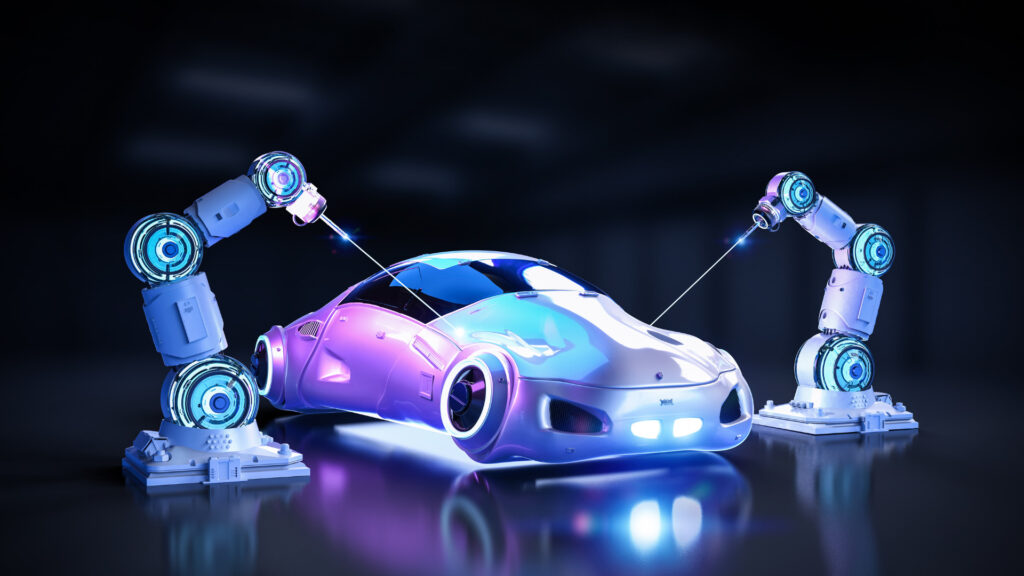 The Power of Digital Twins in Automotive Manufacturing
The automotive manufacturing industry has faced challenges for a long time . Trying to achieve accurate vehicle design, streamline manufacturing processes, and provide excellent sales and servicing. However, a solution exists in the form of digital twins, which have gained significant popularity in recent years. Digital twins create virtual replicas of physical products or processes for testing, optimization, and maintenance purposes . Also for using technologies such as IoT, AI, ML, predictive analysis, and simulation tools.
This technology possesses several essential characteristics . Like including intelligence, real-time synchronization , repeatability, connectivity, and accuracy. Which enable it to enhance productivity and accelerate processesr , evolutionizing the entire manufacturing value chain. Various applications of digital twins exist in automotive manufacturing, such as product design, assembly line optimization, predictive maintenance, and remote monitoring.
DT provide significant benefits to product design, allowing manufacturers to simulate their products' behavior under different conditions . It helps in optimizing their designs for better performance and safety. Assembly line optimization identifies bottlenecks and inefficiencies, improving the flow of materials, maximizing throughput, and saving manufacturers time and money. Predictive maintenance uses digital twins to monitor real-time performance and identify potential failures, enabling manufacturers to take proactive steps to avoid downtime and repair costs. Remote monitoring helps identify potential issues quickly, allowing appropriate steps to be taken, regardless of the vehicle's location.
Despite DT's numerous benefits, challenges exist, such as technology adoption and different levels of data utilization across regions involved in the product lifecycle. Addressing these challenges is crucial for digital twins to generate a comprehensive virtual twin of a vehicle.
In conclusion, DT's are an incredibly powerful tool in automotive manufacturing. Leveraging DT's improves product quality, saves time and money, and improves manufacturing processes' overall efficiency. The technology eliminates uncertainties and defects, and we can expect even more innovative applications of this technology in the future, beyond the automotive industry.
READ MOREhttps://www.exellius.com/